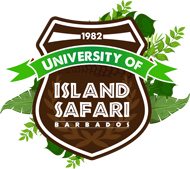 August 31st, 2019
University of Island Safari
Department of Registration
CWTS, Lower Estate
Dear Students,
Welcome to the University of Island Safari. Here you can enrol and earn your diploma in Adventure-ology! No exams required. Students* receive

20% off

all tours. Courses commence from

October 1st to October 31st, 2019.




Call us at 429-5337 or email us at

re

to register today.
Thank you.
Sincerely,
Dean of the School of Thrills & Fun
The University of Island Safari


*This special applies to Ross University and University of the West Indies students.
* Must present a valid school ID when booking.